The Detox Tea Experience: cleansing, de-stressing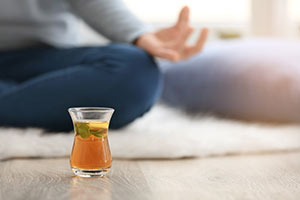 Hit the rest button and remove toxins from your mind, body and soul.
Tasting Notes: citrusy, warming
Bright, clean citrus notes meet warming and unconventional spices and herbs in this one-of-a-kind blend. Forest notes of juniper, pine and medicinal roots give Detox a sturdy, nourishing feel, while floral notes round out the overall bouquet. The overall effect is complex, soothing and nourishing... ideal for anyone who feels worn thin by the world.
Ingredients: Organic rooibos, organic honeybush, organic lemon myrtle, lemon peel, juniper, ginger, licorice root, anise, lemongrass, marigold, stevia, birch leaves, willow bark, natural flavor.
1.5 tsp Per Cup
212°
5 Minutes
Savoring Your Experience:
Sip Detox Tea on its own in the evening, or pair it with simple breakfasts (such as homemade porridge or whole wheat toast with butter) in the morning. It also pairs well with lighter and more understated desserts, such as vanilla pound cake or French Madeleines.
Fun Facts:
Sitting down for a session of our Detox Tea is an opportunity to cleanse yourself of stress and negativity. With each sip you take, deepen your commitment to live a healthier, happier life. Juniper helps cleanse the blood. Marigold is a cleansing and detoxifying herb with anti-fungal, anti-viral and antibiotic activity. It also helps in the healing process and benefits the immune and lymphatic systems. Rooibos, Honeybush, lemongrass, and lemon myrtle are antioxidant rich and create a pleasant experience.