The Organic Ceremonial Matcha Green Tea Experience: the taste of Zen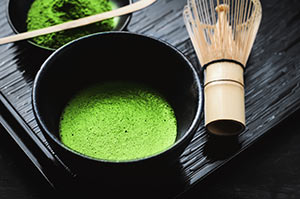 This is the ultimate tea for tea rituals. Settle into the moment. Bring water to a simmer, prepare your teaware, whisk a foamy bowl of tea. Experience the flavor of Zen mindfulness, all in a sip.
Tasting Notes: savory, balanced, moderate umami
This powdered green tea's aroma is sweet and clear, with a bold green scent and a hint of almond. It whisks up with abundant foam (a good marker for quality) and a soft, sweet, cut-green aroma. The flavor is at once bold and balanced, bittersweet and pleasing. It has an umami savoriness that Japanese tea lovers will adore. Its lasting aftertaste kicks off with a burst of wheatgrass flavor. And, for us anyway, it brings a gentle sense of elation, which makes it a wonderful tea for morning rituals.
Ingredients: Organic ceremonial Japanese green tea powder.
165°
1 tsp Per Cup ~ Mix to a frothy consistency
Savoring Your Experience:
In Japanese tea ceremonies, participants usually enjoy a small sweet before sipping matcha, both for the flavor and as a slight buffer to the stomach. Traditionally, this was wagashi (Japanese tea sweets) such as pressed sugar candies that melt in the mouth quickly, jellied yokansweets (much like a thick, mild Jello), wafer-style confections, mochi (pounded rice) with red bean paste or other fillings, or sweets made with yams.
You can get creative with your own matcha ceremony sweets. Try wafer cookies in mild flavors (such as butter, vanilla or almond), sesame-honey sweets, a mini sweet potato cupcake, a bite of homemade Jello with a Japanese flavor (such as cherry blossom or red bean), any small sweet featuring seasonal fruits, or any tasty sweets from a local Asian market that you happen to enjoy.
Fun Facts:
This tea is a step up from our Everyday Matcha. It is best consumed within a few months of opening, and it is wonderful for sharing with others. If you don't have a matcha set already, check out our teaware section—having a good whisk, bowl, etc. will really improve your matcha's flavor, appearance and texture!