The Very Velvet Oolong Tea Experience: bright, floral, green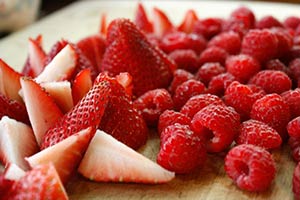 Very Velvet, indeed! This tea exudes a luscious, intense, velvety-smooth flavor and a fresh, blossomy aroma.
Tasting Notes: smooth, savory, floral, fruity
As you brew Very Velvet Oolong, the tightly curled leaves expand enormously as they impart a soft amber color into hot water. The enticing and aromatic notes of strawberry and blue cornflower combine with the distinctly floral quality of a full-bodied green oolong. Floral flavors are balanced by the buttery undertones of the savory-sweet oolong. Further complexities come forward with peachy notes and a hint of jasmine. The aftertaste leaves you with a lush, refreshing flavor to savor...
Ingredients: Oolong, blue cornflowers, strawberry pieces, flavor.
1.5 tsp Per Cup
180°
4 Minutes
Savoring Your Experience:
Relish this special tea with a fruit and cheese platter and flaky, buttery pastries. Serve anytime of day.
Always brew with fresh water, just prior to a full boil. Experiment with the amount of leaves and vary steeping times to find your perfect cup. This tea evolves over multiple steepings, so be sure to brew it multiple times in one session.
Fun Facts:
Oolongs are enjoyable to watch as they steep and unfurl. A glass teapot and clear glass infuser insert are excellent for viewing the expanding leaves.