The Strawberry Treasure Experience: sweet, juicy, grounding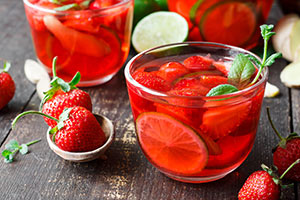 Can a tea be both grounding and uplifting at the same time? Apparently so, because Strawberry Treasure is just that. Notes of sweet strawberry greet you as you sip, followed by a hint of tangy hibiscus, and finishing with deep ginger notes. Sip this rosy-pink tea and experience its depth.
Tasting Notes: wild strawberries, summer melons, candied apples
Fruity notes of apples and strawberries create a bright and lively infusion, while a hint of earthy ginger provides a gentle warmth that is not overpowering. Herbaceous lemon myrtle and tangy hibiscus add layers of complexity. A delightfully smooth infusion with just enough hibiscus and ginger zing to keep it interesting!
Ingredients: Apple pieces, rose hip peel, hibiscus, wild strawberry leaves, lemon myrtle, sweet blackberry leaves, flavor, ginger pieces, strawberry slices.
1.5 tsp Per Cup
212°
5 Minutes
Savoring Your Experience:
Strawberry Ginger is the perfect tea to unwind with after a long day. As you sip this soothing blend, let your worries drift away, even if just for a few moments. You'll feel relaxed and ready to face another day! Pair Strawberry Ginger with some dried dates or simple tea cookies to let the flavors of this compelling infusion shine through. Tastes great hot or iced.
Fun Facts:
Ginger has long been used in Ayurvedic medicine. In India, Ayurveda is a traditional holistic approach to medicine. Ginger is popular in many natural remedies, including aiding digestion, improving skin clarity and cleansing the body from toxins.