The Roasted Cocoa Yerba Mate Experience: full-bodied, earthy, energizing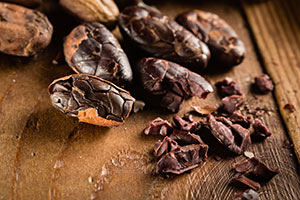 This Argentinian yerba mate blend creates a hearty and flavorful, yet soft and sublime, infusion.
Tasting Notes: toasty, cocoa, cream
Roasted yerba mate, organic rooibos and mellow chicory are blended together to create a thoroughly satisfying infusion. Thinly sliced whole almonds, carob chip drops and cocoa nibs lend heartiness to this very drinkable stout drink. An aroma of dark, bitter chocolate draws you in. The complex chocolate, roasty flavor, replete with vanilla overtones, is rich and robust. One sip and you may just become a lifelong yerba mate drinker!
Ingredients: Roasted mate, cocoa nibs, rooibos, honeybush, chicory, cocoa powder, carob chips, almonds, marigold, flavor.
2 tsp - 1 tbs Per Cup
180°
3-5 Minutes
Savoring Your Experience:
Use water just under boiling to bring out the full flavor of the yerba mate, without turning the leaves and twigs bitter. Add a splash of almond milk to accentuate the toasty nuttiness of this blend.
Fun Facts:
This blend is perfect for those looking for a healthier alternative to coffee that doesn't sacrifice its full, rich flavor. Yerba mate offers both nutrition and sustained energy without the side effects associated with coffee. Similarly, cocoa offers an energy boost without a crash. It's a great way to start your day or boost your afternoon.