The Peach Vineyard Black Tea Experience: a bright, juicy black tea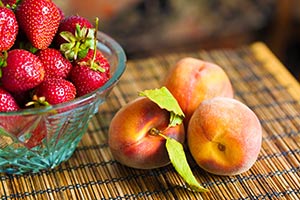 Intrigued? You should be...
Tasting Notes: nectarous, bold, fruity
This blend is reminiscent of a bold, sweet red wine. The dry leaves smell heady, while the light brown infusion is fruit-forward. Deep, luscious flavor offer hints of black currant, and are reminiscent of harvest season on a vineyard. With a solid, full-flavored black tea as its base, our Peach Vineyard has a bouquet of berry, earthy undertones and a winey character. The body is almost thick, nectar-like. A subtle peachiness and tartness plays out with hints of soft spice and natural sweetness. The finish is rich, like a sweet red wine.
Ingredients: Black tea, natural flavor, red/yellow peach crunchy, strawberry pieces, safflower.
1.5 tsp Per Cup
203°
4-5 Minutes
Savoring Your Experience:
Wine for breakfast?! Yes. This is a great stand-alone breakfast tea! But this wine-inspired tea can also team up with and enhance a full spectrum of flavors. It pairs well with sweet desserts like decadent truffles or molten chocolate cake. To accompany a meal, try it with Indian-inspired dishes, tapas or other intensely flavored foods.
Fun Facts:
There are many similarities in growing and enjoying both tea and wine. Growing wine grapes and tea is all about the terrain, soil, climate and altitude. Each raw plant material is selected for its own complexities, nuances and flavors, and then skillfully processed into a beloved beverage. Either can be enjoyed alone as a delicious drink, or paired with food. And in Red Vineyard, elements of the world of wine are infused into tea for a non-alcoholic drink any wine lover will adore.