The Raspberry Champagne White Tea Experience: celebratory and refined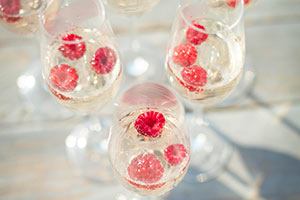 A nod to the foodies who love both tea and wine, this is an elegant white tea to be appreciated and savored. The blend of red raspberries and Champagne creates a sense of opulence and romance that makes it ideal for special occasions.
Tasting Notes: sweet and slight tart, light
Appealing orange petals contrast the unfurling large, green leaf and create a shimmering, golden infusion. Once brewed, the pale yellow liquor, its color reminiscent of white wine, emits a flowery aroma. For discerning palates, the captivating floral and juicy red raspberry flavors highlight, but don't overshadow, the classic white tea. The complexity of delicate white tea is rounded out by honeyed sparkling wine notes and a hint of jasmine. The infusion leaves the mouth with a smooth and lingering sweetness.
Ingredients: White tea, Safflowers, Raspberry Pieces, Red Raspberry Champagne Flavor.
1 tbs Per Cup
165°
3-6 Minutes
Savoring Your Experience:
This versatile tea may be your go-to daily white tea or a tea for a special event. Enjoy it tea with a breakfast of piping hot steal-cut oats with cranberries and almond slivers. Or serve it with a special afternoon tea consisting of open-face chicken salad sandwiches, dark chocolate shortbread and a cluster of sugar-frosted grapes. Lovely served hot, delicious iced, this tea is a must for your cupboard and your teapot.
Fun Facts:
White tea is made by harvesting the newest, young leaves and buds of a certain variety of the Camellia sinensis (tea) plant. White tea leaves are minimally processed, just dried, so they may retain the most healthful properties, including immense detoxifying and stress-relieving potential.