The Pineapple Paradise Green Tea Experience: tropical sweetness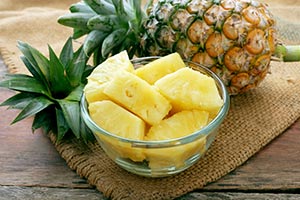 This light green tea is balanced with soft fruits and tart pineapple to create a surprisingly soft, sweet infusion. It's one of our best sellers, and with good reason!
Tasting Notes: lively, smooth, exotic fruits
Pineapple Paradise is a pretty, colorful mixture of green tea, pineapple and mango pieces with safflower and sunflower blossoms. The brewed leaves emit a soft aroma of exotic fresh fruits which is a bit grassy, but discreet. Candied pineapple comes forward in the sip. The lively sencha green tea base blends well with the juicy, lemony notes. There is no bitterness at all in this super-smooth brew. A silky mouthfeel and a clean, lingering, sweet aftertaste round out to satisfying finish.
Ingredients: Green tea, pineapple cubes, mango cubes, natural flavor, safflower, sunflower blossoms.
1.5 Per Cup
175°
2-3 Minutes
Savoring Your Experience:
Pineapple and mango flavors yearn to be enjoyed iced or chilled, but this tea is equally delicious served hot. The refreshing qualities of this blend are apparent in both preparation methods. As an iced tea, it is an excellent thirst quencher in hot summer months; in the winter months, the exotic scent and taste carries us away to the warm tropics...
Fun Facts:
In addition to brewing into a mouthwatering iced tea, Pineapple Paradise also makes a great base for fermented kombucha tea.