The Peach Apricot Green Honeybush Experience: 'just peachy' iced or hot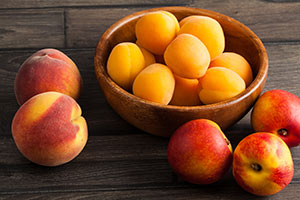 Our peach teas are bestsellers for a good reason: people LOVE the taste of juicy peaches in their tea! This caffeine-free blend is 'just peachy' whether it's iced or hot.
Tasting Notes: peach, apricot, woodsy
Powerful peach notes make up the core flavor of this tea. Appealing apricot adds sweetness and flavor. Juicy, ripe and sweet… Green Honeybush gives it a woodsy undertone. And rose petals add a soft floral note (as well as visual appeal) to the blend.
Ingredients: Green honeybush, pineapple pieces, orange peels, papaya pieces, flavor, apricot and peach pieces, rose petals.
1.5 tsp Per Cup
208°
5 Minutes
Savoring Your Experience:
Who says you can't drink iced tea all day and into the night?! With this caffeine-free blend, you can. Brew it strong, chill it and pour it over ice. No sugar needed (though you can add some if you like your peach tea to be able to hold a spoon up straight, as we say down South).
Fun Facts:
Honeybush is a sweet herbal tea that's closely related to Rooibos. Like Rooibos, Honeybush is grown in South Africa, where it's a traditional beverage. Green Honeybush is unoxidized and has a fresher flavor than regular (oxidized) Honeybush.