The Golden Dragon Yunnan Tea Experience: heavenly Shangri-La adventure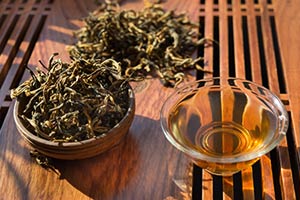 This organic black tea grows in Yunnan, China—the birthplace of tea, home to some of the world's most prized orchid species and the location of the (perhaps mythical, perhaps real) Shangri-La.
Tasting Notes: bold, nuanced, satisfying
Our Golden Dragon Yunnan holds the lushness, beauty and power of its homeland in every leaf. It is bold yet nuanced, and supremely satisfying. As you sip, look for sweet notes of malt, spice and chocolate.
Ingredients: Organic black tea from Yunnan Province in China.
1.5 tsp Per Cup
190°
5 Minutes
Savoring Your Experience:
If ever there was a tea suited for pairings, this is it! Partner it with baked goods, creamy sweets or baked plum dishes at brunch or afternoon tea. Infuse it into dark rum for seductively complex cocktails. Or simply sip it with a snack of dark milk chocolate or candied nuts.
Fun Facts:
A little of this tea goes a long way. Its small leaves open up into big flavors, and they pack a lot of yang qi (masculine energy). Enjoy for three infusions or more.