The Monkey Picked Oolong Tea Experience: legendary, classic, unforgettable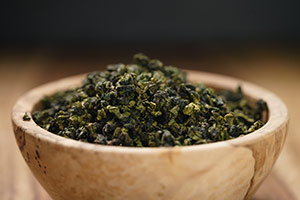 No monkeys were harmed or exploited in the making of this tea! Despite legends to the contrary, the name "Monkey Picked" refers to the highest grade of oolong tea a tea artisan has to offer. Our Monkey Picked Oolong is the best of its maker, and a truly noteworthy tea.
Tasting Notes: buttery, velvety smooth, slightly sweet
The unfurling leaf of this exquisite oolong produces a clear, golden cup and brings forward an earthy aroma. The flavors are complex, with accents of roasted nuts and caramel. Apricot, orchid and honey undertones shine through with a subtle sweetness in the cup. There is a soothing character to this tea. The smooth-bodied infusion offers a clean, refreshing finish and a lingering calm.
Ingredients: Exquisite Chinese oolong tea.
1.5 tsp Per Cup
195°
3 Minutes
Savoring Your Experience:
Relax and enjoy this lovely tea with a slice of warm quiche or a vegetable barley soup and some rustic bread. For something sweet, pair with fresh-baked chocolate chip cookies.
As with other oolongs, prepare and steep in a clear glass brewing vessel to see the rolled leaves unfurl. Brew with a generous amount of leaf. Carve out time to savory this experience over multiple steepings.
Fun Facts:
According to legends and lore, monks trained monkeys to gather the youngest, most delicate leaves from the tops of wild tea trees for this special tea. The legend lives on in the name and gives a nod to the uniqueness of this tea.