The Jasmine Pearls Green Tea Experience: aromatic, fresh, smooth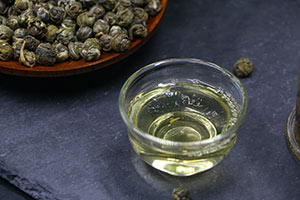 These beautiful little bundles pack a total tea experience – lovely to look at, divine to breathe in and smell, delicious to sip and savor.
Tasting Notes: floral, fragrant, fresh
This superb hand-rolled jasmine green tea features tightly rolled pearls with pleasing variations in color and leaf texture. When steeped, the pearls slowly unfurl into a light, sweet cup. The glowing brew is highly aromatic; a fresh green menagerie with distinct jasmine overtones. The blossom-forward aroma, defined green flavor and rich honeyed notes bring forward a delightful cup. Slightly sweet notes are balanced with a vegetal tone and a smooth, lightweight body. This is a tea to savor slowly... floral flavors linger in the aftertaste and the brew doesn't turn bitter as it continues to steep.
Ingredients: Organic hand rolled jasmine green tea.
1.5 tsp Per Cup
190°
2-3 Minutes
Savoring Your Experience:
This tea is exceptionally comforting. It's perfect for multiple infusions; relax and steep this aromatic tea again and again. For a sweeter cup add a bit of honey. During an afternoon reprieve, add to the herbal appeal of our Jasmine Pearls with lavender shortbread and a fresh green salad.
Fun Facts:
The jasmine plant is widely known for its blossoms. It is cultivated for cut flowers, oils and syrups, and the buds of the jasmine plant are used to scent tea. To make Jasmine Pearls, green tea leaves and buds are infused with the scent of fresh jasmine blossoms, then hand-rolled to lock in the aroma.
In northern China, it is customary to serve jasmine tea when welcoming guests. We can understand why!