The Jasmine with Flowers Experience: heady, lush, exotic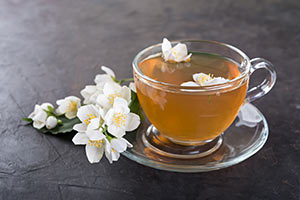 If you've ever walked through a garden of night-blooming jasmine, you'll certainly remember the heady, intoxicating scent of the delicate white blossoms. As you drink our blend of sweet jasmine blossoms and green tea, you'll feel as if you've been transported to fragrant flower garden—overcome by the beauty and power of the lush, exotic floral aroma.
Tasting Notes: succulent, floral, fruity
Gentle floral notes infuse this tea while a nectar-like sweetness lingers on the palate. Jasmine with Flowers is stronger in flavor than many green teas, and the quiet jasmine notes become more pronounced as the tea cools. This tea strikes the chord between gentle and robust.
Ingredients: Organic green tea scented with jasmine flowers.
1.5 tsp Per Cup
175°
2-3 Minutes
Savoring Your Experience:
Jasmine with Flowers tastes great hot or iced. It also blends well with other flavors like vanilla, bergamot or citrus. Add half a spoonful to your favorite tea to create your own unique infusion.
Fun Facts:
Jasmine tea is often served with meals in Chinese restaurants. However, our version is a higher quality than your typical restaurant-grade tea. To make Jasmine with Flowers, green tea leaves are layered with real jasmine blossoms, and allowed to sit overnight before they are removed. This labor-intensive, costly process is repeated twice more with freshly harvested jasmine blossoms to infuse a strong floral flavor into the tea, and a few jasmine flowers are dried and retained in the last scenting for their beauty and flavor.