The Ginger Peach Tea Experience: spiced fruit cobbler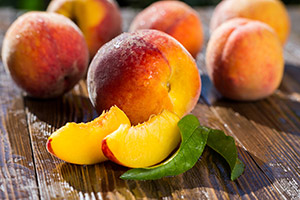 This aromatic, comforting tea warms the senses with each sip. Smooth black tea mixes perfectly with overtones of spice and ripe, juicy peaches and papaya. Apples add a touch of creamy sweetness that rounds out the cup.
Tasting Notes: fragrant, lush, full-flavored
A truly classic combination. Generous bits of succulent, sweet papaya and the spiciness of ginger create a luscious aroma, enjoyable infusion and pleasant aftertaste. Notes of peach nectar are delicious and consistent from start to finish, and a peachy aroma lingers on the palate. Throughout, the smooth black tea acts as a solid base to this full-flavored tea. No tea collection is complete without this blend.
Ingredients: Black Tea, apples, papaya, ginger bits, safflowers and natural flavor.
1.5 tsp Per Cup
203°
4-5 Minutes
Savoring Your Experience:
There are two very different ways we recommend enjoying this tea. Iced, it's smooth, flavorful and refreshing. Hot, it's wonderful served with almond milk (or your favorite dairy) and honey for a "peaches and cream" experience. Try both, and see which you prefer.
If you're feeling peckish, know that Ginger Peach Tea pairs perfectly with hearty, buttery desserts like crumbles, cobblers and coffee-cakes.
Fun Facts:
Peaches originated in China, where they were considered a cherished fruit of the emperors. Today, peaches are a beloved fruit around the world, and peaches are the second largest commercial fruit crop in the U.S., after apples.
Ginger has long been used in Ayurvedic medicine. In India, Ayurveda is a traditional holistic approach to medicine. Ginger is popular in many natural remedies, including aiding digestion, improving skin clarity and cleansing the body from toxins.