The Ginger Darjeeling Peach Tea Experience: spiced fruit cobbler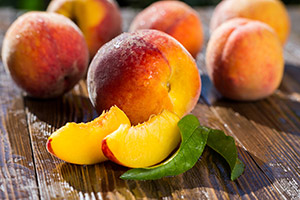 This aromatic, comforting tea warms the senses with each sip. Organic black Darjeeling and Ceylon teas mix perfectly with overtones of spice and ripe, juicy peaches. A touch of creamy, sweet, organic South African honeybush rounds out the cup.
Tasting Notes: fragrant, lush, full-flavored
Two types of black tea and leaves of the honeybush plant, all grown in different countries, meld together in this full-bodied infusion. Generous bits of succulent, sweet peaches and the spiciness of cinnamon, ginger and cloves create a luscious aroma, enjoyable infusion and pleasant aftertaste. Notes of peach nectar are delicious and consistent from start to finish, and a peachy aroma lingers on the palate. Throughout, the Darjeeling black tea acts as a solid base to this full-flavored tea.
Ingredients: Organic Ceylon and Darjeeling black tea, dried peaches, cinnamon, ginger, organic honeybush, natural flavor, cloves.
1.5 tsp Per Cup
203°
4-5 Minutes
Savoring Your Experience:
There are two very different ways we recommend enjoying this tea. Iced, it's smooth, flavorful and refreshing. Hot, it's wonderful served with almond milk (or your favorite dairy) and honey for a "peaches and cream" experience. Try both, and see which you prefer.
If you're feeling peckish, know that Ginger Darjeeling Peach Tea pairs perfectly with hearty, buttery desserts like crumbles, cobblers and coffee-cakes.
Fun Facts:
Organic tea leaves harvested from the Darjeeling region of India and the island of Sri Lanka (formerly known as Ceylon) create a delicious base for this fruity, spiced tea. This is a popular start to specialty black tea blends. But this blend enhanced by an unusual ingredient for a black tea: honeybush.
First noted in literature in 1705, honeybush is a plant indigenous to the South African cape. It's a caffeine-free herb known for it's healthful properties. As an infusion, honeybush offers soft, honeyed flavors (hence the name!).