The Chocolate Cake Honeybush Tea Experience: subtle, creamy chocolate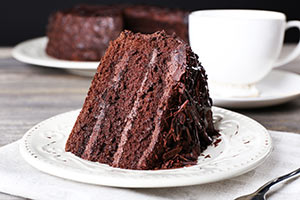 This infusion is a divine, healthful way to indulge in a classic dessert.
Tasting Notes: soft, smooth, cake-like
The aroma of this blend is pure chocolate cake. Bittersweet chocolate bits and charming rosebuds mix with the red honeybush leaf to create a dark, rich infusion. Delicate honeybush flavors are the perfect companion for chocolate. Caramel adds a creamy sweetness, and slight nuttiness, for unparalleled balance in this delectable dessert in a cup. A smooth creaminess lingers on and on after the last sip...
Ingredients: Honeybush, chocolate chips, caramel cream pieces, flavor, rosebuds.
1.5 tsp Per Cup
208°
5 Minutes
Savoring Your Experience:
Naturally caffeine free, this sweet treat makes a wonderful dessert at the end of your day. Steep it a little longer (up to ten minutes) for more chocolate flavor. Add a splash of your favorite milk and a piece of German rock sugar to enhance the creamy sweetness.
Fun Facts:
South Africa's Eastern Cape is home to both honeybush and rooibos. Honeybush has a smooth, gentle, honeyed flavor and is slightly fuller bodied than rooibos. Like rooibos, honeybush is naturally caffeine free, and it has a clean and refreshing taste that makes a fantastic base for herbal blends. Honeybush has no astringency and a low tannin content, so it is especially suitable for children.