The Caramel Cream Yerba Mate Experience: decadent, rich, smooth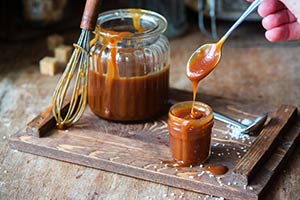 Caramel notes shine in this unique mate and rooibos infusion, creating a dessert in a cup or a delightful alternative to your caramel latte.
Tasting Notes: caramel, cocoa, chicory
All of the bits and pieces and chunks in this mate blend let you know that you're in for a flavorful cup. The aroma is cake-like and creamy. The bold flavors of the roasted mate, rooibos and chicory create a hearty, decadent infusion with a smoky undertone, while marigold flowers add subtleties. The nutty, woody notes are balanced by hints of browned-sugar caramel. The character of the roasted mate is similar to coffee, especially with the chicory in the blend.
Ingredients: Roasted mate, rooibos, caramel bits, roasted chicory, chicory root, marigold flowers and natural flavor.
2 tsp - 1 tbs Per Cup
180°
3-5 Minutes
Savoring Your Experience:
This mate blend is a great alternative to coffee drinks. It offers an energy boost without the side effects associated with coffee, like energy crashes, jitters and addiction. Plus, the leaves of the mate tree contain 24 vitamins and minerals, 15 amino acids, abundant antioxidants.
But it's not just good for you. It's also delicious! If you're seeking a latte-like flavor in this blend, add a little more of your favorite milk and a dash of raw sugar. Perfecto...
Fun Facts:
Chicory is a naturally caffeine-free plant cultivated as a medicine, herb and additive to (or replacement for) coffee. When combined with coffee, it gives a hearty, slightly bitter taste and a dark color... and it offers potential health benefits you wouldn't normally find in coffee.