The Berry Guayusa Tea Experience: deliciously medicinal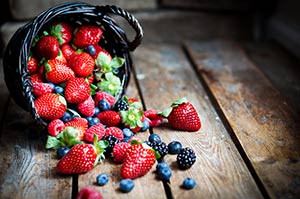 Guayusa, Hibiscus and elderberry each have longstanding medicinal uses, and this surprisingly delicious tea features all three of them while the naturally occurring caffeine in guayusa provides a boost of energy.
Tasting Notes: bright, tart-sweet, earthy
Elderberry, blackberry, strawberry, rose hips, raspberry and hibiscus each add their own berry flavors to this blend. It's a little sweet and very tart and supported by an earthy, green note of Organic Green Guayusa (a close relative of Yerba Mate). The brilliant red color matches the aftertaste: bright, tangy and strong enough to leave a lasting impression.
Ingredients: Organic amazonian guayusa, hibiscus, rose hips, apples, elderberries, flavor, blackberries, strawberry & raspberry pieces.
2 tsp - 1 tbs Per Cup
180°
3-5 Minutes
Savoring Your Experience:
Welcome the sunrise with this brilliant red brew. Do sun salutations and open up a new day with it.
Welcome the sunset with this mysterious medicinal brew. Simmer it over a campfire and sip it ceremonially.
For something sweet, pair Hibiscus Berry Guayusa with lemon bars, lavender shortbread or a berry parfait with lemon or vanilla yogurt.
And don't forget to turn to it on special occasions - its red hue is perfect for holiday punches!
Fun Facts:
Guayusa is an herb native to the Amazonian rain-forest. Indigenous communities drink guayusa before night-time hunting trips to heighten their senses and boost energy, earning the herb the nickname "The Night Watchman."