The Organic Bai Mu Dan White Tea Experience: A must-try white tea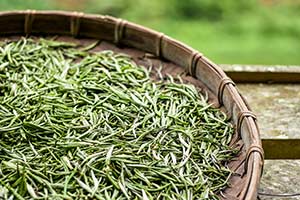 Along with Silver Needles White Tea, Bai Mu Dan is one of the two must-try true white teas.
These days, with the antioxidant craze creating so much hype around white tea, it seems that the term "white tea" doesn't mean much anymore. Although the studies that made white tea so wildly popular were done on tea plants that are only grown in one area of China, it's common to see larger tea companies hawking "antioxidant-rich white tea" from completely different plants grown elsewhere in China, in India and Indonesia, even in Malawi and Kenya! Unlike these modern white tea variations with their questionable health claims, our Bai Mu Dan White Tea from the traditional white tea region of China truly deserves the name white tea.
Tasting Notes: savory-sweet, nuts, melons
You can tell this tea is authentic just by looking at it. Its young leaves (or "buds") are long, thin and covered in white & "down" (tiny hairs used by the plant to protect its newest growth from insects), while its leaves are large and crinkly, with one side crisp green and the other side covered in white down. But brewing it will tell you even more. The pale gold infusion smells mellow, sweet, peachy and floral. The flavor is nutty, with a clear cantaloupe taste and notes of hay, fresh wildflowers and steamed green beans. A green, herbaceous flavor hints at thyme, while the overall character is a perfect balance of sweet and savory. Each sip ends with a refreshing, nutty note.
Ingredients: Organic white tea from the Fujian province of China.
1 tbs Per Cup
180°
2 Minutes
Savoring Your Experience:
Go for mellow and slightly sweet when you pair this tea. You can lean toward the savory-sweet end of the spectrum with sticky rice dishes or roasted chestnuts. Or you can go into slightly sweeter territory with waffles and whipped cream, tapioca pudding, or Asian red bean sweets. Either way, remember these three words: mellow, slightly sweet.
Fun Facts:
White tea is very simply processed. It's plucked and dried, either in the sun or with hot air. What else? That's it! What makes white teas special is the plants used to produce them. Traditional white teas like this one are grown from a limited number of tea varietals that grow in Fujian, China. These varietals are the ones that grew the white teas shown to be higher in antioxidants and lower in caffeine than so many other tea types, and these are the ones that we trust to make the best white teas every time.