The Jeoncha Green Tea Experience: Exquisite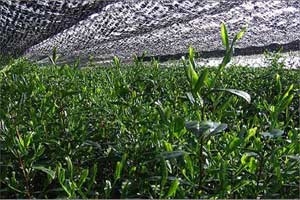 This first flush Korean green tea is full of nuanced flavors that offer a hint as to where it is grown—in fertile soil rich with minerals and surrounded by the sea. Notes of seaweed and grass take the lead in our classic Korean green tea.
Tasting Notes: Rich, Vegetal, Complex
Jeoncha green tea is visually stunning with its deep jade-green, needle-shaped leaf. The long, flat leaves are rich in aromas, emitting bold scents of seaweed and spinach. The golden-green infusion offers a brothy and smooth brew. It's complex yet clear with grassy, vegetal flavors coming forward. A multi-faceted sweetness lingers on the palate after your last sip.
The geography of South Korea itself helps to create teas of exceptional quality. Its mountainous terrain and temperate climate produce a storied tea full of intricate richness.
Premium green tea provides a natural way to take in more antioxidants, including powerful EGCG, into your daily diet. The antioxidants in green tea fight harmful free radicals in your body and may help provide a defense against aging.
Ingredients: Shade Grown Korean First Flush Green Tea
1.5 tsp Per Cup
175°
1-2 Minutes
Savoring Your Experience:
While rich enough to be enjoyed on its own, our Jeoncha green tea is a perfect companion to sautéed veggies and seafood dishes. It also pairs seamlessly with gyoza.
Fun Facts:
According to Korean historical records, tea was first grown there in 828 AD. Buddhist monks drank the new beverage for its mental and physical benefits. Today, Jeoncha green tea is cultivated on Jeju Island as well as in Hadong on the South Korean mainland.