The Tropical Peach Experience: Bright, fresh, nectar-like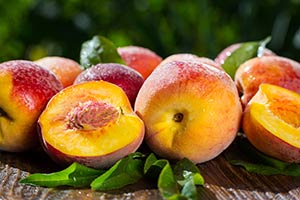 Sipping this tea reminds us of fresh fruit stands and the summer vacations of childhood. Sublime and slightly sweet, Tropical Peach Oolong leaves you with lingering happiness, just like those memories of childhood summers.
Tasting Notes: peaches, floral, tropical fruit
This is a bright, yet delicate and delicious blend. Its golden cup, sweet aroma and silky mouthfeel evoke relaxation and pure enjoyment. The oolong in the blend is mildly sweet and smooth, and when paired with peaches and tropical fruit it produces delectable, lightly fruity flavors and rich, honeyed aromas.
Ingredients: Green Oolong Tea, Peaches, Papaya, Marigold, Flavor.
1.5 tsp Per Cup
190°
3-5 Minutes
Savoring Your Experience:
Serve our Tropical Peach Oolong hot with fresh fruit cobbler, sweet potato pie or baked apples with vanilla ice cream and candied pecans. Or, over ice for a fruity summertime sweet tea! Always brew with fresh water, just before a full boil.
Watch the leaves unfurl as they steep. Continue with multiple steepings to enjoy the evolution of flavors and aromas as these leaves unfurl.
Fun Facts:
Much lore surrounds oolong tea. It is said that this storied tea has been enjoyed for over seven centuries. As oolong is equally complex in history and taste, we say that for every story about oolong, there is another taste to oolong. Oolongs are typically full bodied, and they range from green, bright and floral to dark, roasted and fruity, with many notes in between.