The Raspberry Sunburst Green Tea Experience: fresh, bright, creamy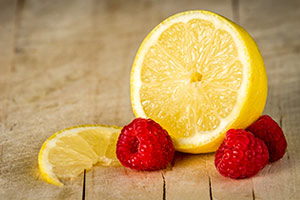 This fruity and flavorful Chinese green tea brings sweet and tart together into exquisite balance.
Tasting Notes: juicy citrus
At first sight, the rolled green leaves of the tea appear almost like small pearls, and they give you a hint that this is something special. The green tea is blended with colorful hibiscus and safflower petals. It brews into golden infusion with a pinkish tint. The dry aroma is candied and sweet, and the brewed aroma lightens a bit. Hibiscus underscores tart berry notes, and while the green tea is slightly earthy, it has its own sweetness. Flavorful lemon brightens the flavor balance and tart raspberry brings the drink into a delightful harmony. Fading like a sunburst, this tea leaves you with a creamy finish and sweet aftertaste.
Ingredients: Green tea, hibiscus, safflowers, natural flavor.
1.5 Per Cup
175°
2-3 Minutes
Savoring Your Experience:
For a special dinner, serve this green tea piping hot with a stir fry and brown rice.
And for an afternoon tea break, add a piece of shortbread or ginger scone to your saucer. If desired, add a drop of honey to round out the tea's sweetness.
Fun Facts:
Green teas have been cultivated in China for approximately 5000 years. The majority of the green teas grown in the Anhui, Zhejiang and Fujian Provinces of China. Our floral Chinese green tea goes through minimal processing, with a slight panfry that adds a discernible flavor characteristic.