The Peach Fuzz White Tea Experience: sweet southern peaches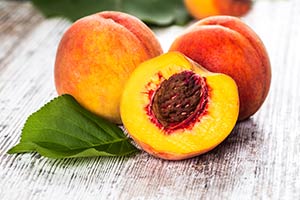 This succulent peach tea brews up into a smooth, soothing hot tea and a crisp, cool iced tea.
Tasting Notes: malty, sweet and just peachy
This summery blend is a melange of slender white tea buds and stems punctuated with bright bits of peaches and papaya. It brews into a light and cheery, orange-colored infusion that speaks to its summery flavor. The complex aroma is malty and rich, with notes of baked sweets (think: peach cobbler, apple pie). The flavor is reminiscent of a summer day on a Georgia peach orchard—sweet, succulent, juicy—with hints of apple and a floral white tea base. The smooth, syrupy mouthfeel of this lush blend makes it ideal for iced tea in warm weather.
Ingredients: White tea, apple, papaya, peach pieces, rosehips, marigold, flavor.
1 tbs Per Cup
180°
3-6 Minutes
Savoring Your Experience:
Peach is a classic flavor for iced tea, and this is our new favorite peach blend for making into iced tea. For traditional iced tea, simply brew the tea at double strength (twice the leaf for the volume of water), then pour over ice and enjoy. If you're sharing it at a barbecue or Southern-themed afternoon tea, don&'t forget to garnish each glass with a lemon wedge or mint sprig.
For a bubbly variation on iced tea, make a batch of Peach Fuzz, and then boil it down to half its volume with an equal amount of sugar to make a peach tea simple syrup. Store it in a jar in the fridge until you're ready for instant iced tea, then simply stir a teaspoon or so of syrup in with a glass of sparkling water (or sparkling wine!) for a quick, easy, bubbly iced tea anytime.
Fun Facts:
After lemon, peach is the world's most popular iced tea flavor. We can understand why! It's so sweet and summery, so nostalgia-inducing and comforting, that we find ourselves gravitating toward it again and again, year after year. If you love peach iced teas, this is a must-try blend.
Looking for more peach teas? Check out our August Peach Oolong, Peach/Strawberry Black Tea, Peach Infusion Hibiscus and Ginger Peach as well.