The Organic Genmaicha Tea Experience: whimsical and natural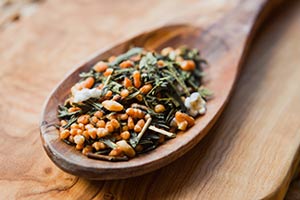 Play with your tea! This organic green tea is blended with toasted and puffed brown rice for a playful appearance, aroma and flavor that's unlike any other tea.
Tasting Notes: sweet, green, balanced
Green tea gives this blend aromas of toasted seaweed, while toasted and puffed brown rice add savory-sweet aromas of popcorn and grain. The golden-green brew has a full, rich aroma akin to kale chips. Its balanced, bright flavor is perky, grainy, sweet and green, green, green. The aftertaste that follows is soft, mellow and grainy... a gentle end to a flavorful frolic.
Ingredients: Organic Japanese Green Tea with Toasted and Popped Rice.
1.5 tsp Per Cup ~ Steep 90 sec
180°
Savoring Your Experience:
Pair this versatile organic green tea with anything and everything—roasted veggies, toasted bread, fresh fruit, grilled seafood, you name it. After a few infusions, you can play around with cooking with the spent leaves. (After all they're organic!) Eat them in a soup, blend them in a smoothie or used them to top salted caramel ice cream. Just remember to have fun!
Fun Facts:
This lively green tea is made of Bancha (a late-harvest green tea), toasted brown rice and puffed brown rice. Although it tastes like a modern blend, it dates back a few generations, when poor farmers would extend their limited tea supplies by blending in rice as a "filler" ingredient. However, the blend became an instant favorite in Japan, and has since spread around the world to delight tea drinkers with its savory-sweet flavor and totally unique appearance.