The Makaibari 1st Flush Black Tea Experience: biodynamic Darjeeling tea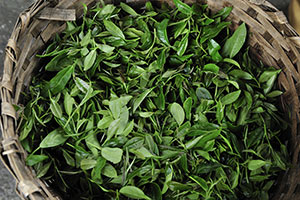 This incredible black tea hails from the most famous organic tea estate in the world. And it's not just organic—it's Fair Trade certified and Demeter biodynamic certified, too. Biodynamic agriculture goes beyond normal organic production methods to nurture the earth and work together with the surrounding ecosystem. Now that's eco-friendly!
Tasting Notes: fruity, green, earthy
Like many excellent Darjeeling first flush black teas, this biodynamic Makaibari first flush offers the fruity, floral, slightly green flavor of springtime, backed by moderate tannins and hints of malt. Unlike most other great Darjeelings, it has the characteristic Makaibari flavor profile—a majestic, sweet, mineral-rich earthiness unlike anything you've tasted before.
Ingredients: Organic & biodynamic darjeeling FTGFOP-1 black tea from the famed Makaibari Estate in India
1.5 tsp Per Cup
195°
2-4 Minutes
Savoring Your Experience:
This tea is perfect on its own… though if you really like your tea sweet, you can sprinkle in a bit of Fair Trade brown sugar. We won't tell! And on chilly evenings, recall the mists of Darjeeling with a Planter's Toddy made from fresh brewed Makaibari First Flush, a squeeze of lemon, a spoonful of honey and a shot of whisky.
Fun Facts:
Wondering what "first flush" means? The "flushes" are growth spurts of tea plants. Starting in springtime, the tea plants of Darjeeling "flush" several times. The first and second flushes are the ones most prized by connoisseurs. The first flush is known for its greener, lighter flavor, while the second is known for its fruity, muscatel grape notes. After the second flush is harvested, the monsoons come, and some estates offer a (far lesser quality) monsoon flush. And, finally, before the tea plants return to winter dormancy, there's an autumnal flush. This tea is from the superior first flush harvest.