The Clouds and Mist Tea Experience: thick, dreamy, mellow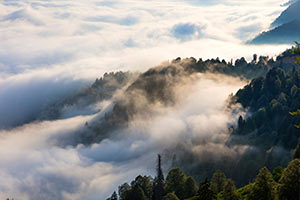 True to its name, this tea is a heavenly sojourn into a world of mist and mystery...
Tasting Notes: smooth, sweet, fruity
This tea's dark, leaves emit sweet aromas of purple grapes, red apples and red plums. The pale lemon yellow infusion smells nutty and buttery, whispering of the creamy mouthfeel yet to come. The strikingly smooth flavor contains no astringency whatsoever. It is light and sweet and enigmatic, like walking through the mists of an ancient tea forest high on a Chinese mountaintop. Sweet, fruity notes transform into a soft, gauzy aftertaste of purple grapes and lemon.
Ingredients: Organic Chinese Yun Wu green tea.
1.5 tsp Per Cup
175°
2 Minutes
Savoring Your Experience:
No milk or sugar is allowed in the land of Clouds and Mist. Don't add a thing to this dreamy, diaphanous tea! However, you can pair it with light, relatively neutral foods. We suggest Waldorf salad, organic apple slices or a slice of peasant bread, such as ciabatta.
Fun Facts:
This organic tea is wonderful for steeping more than once. Revel in its softness and its gently shifting aromas and flavors with each infusion.