The August Peach Experience: toasty, fresh, nectar-like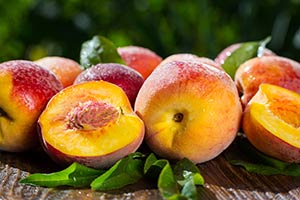 Sipping this tea reminds us of fresh fruit stands and childhood summer vacations. Cheerful peach notes dance on the tongue while oolong tea leaves chocolatey finish. Sublime and sweet but not overpowering, August Peach leaves you with a lingering happiness, just like those memories of childhood summers.
Tasting Notes: peaches and cream, chocolate, roasted fruit
The brewed tea is dripping with rosey peach notes. After the initial sweetness come the woodsy oolong notes with hints of cocoa and roasted fruits. You can infuse the tea leaves more than once. With each subsequent infusion the peach notes quiet, while deep roasty oolong tea emerge.
Ingredients: Organic oolong tea, organic rosehips, organic marigolds, natural flavor.
1.5 tsp Per Cup
190°
3-5 Minutes
Savoring Your Experience:
Serve August Peach hot with fresh peach cobbler, sweet potato pie or baked apples with vanilla ice cream and candied pecans. Or ice August Peach for a fruity summertime sweet tea!
Always brew with fresh water, just prior to a full boil. Experiment with the amount of leaves and vary steeping times to find your perfect cup. This tea evolves over multiple steepings, so be sure to brew it multiple times in one session.
Fun Facts:
Peaches originated in China, where they were considered a cherished fruit of the emperors. Today, peaches are a beloved fruit around the world, and peaches are the second largest commercial fruit crop in the U.S., after apples.