The Organic Ceylon Black Tea Experience: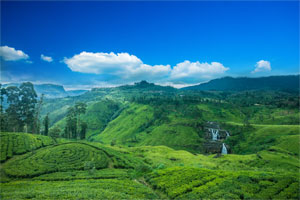 bold; ideal for milk & sugar

Is strength your weakness? Then reach for this unabashedly audacious tea. And if you love a tannic black tea tempered with milk and sugar, Organic Ceylon is your brew—that's exactly how this tea really shines!
Tasting Notes: tannic, direct, subtle undertones
Most people love how daring this tea is in its direct, full-on tannins. Its full flavor grabs your attention and doesn't let go, making it a perfect wake-up tea (especially with milk and sugar). But some people love the subtler side of this cheeky tea, and will notice the hints of citrus and other tropical flavors (day lilies, ginger flowers) that slip though its bold facade. Either way, this lacquer-red brew is sure to captivate.
Ingredients: Pure Organic Black Tea from Sri Lanka.
1.5 tsp Per Cup
203°
3-5 Minutes
Savoring Your Experience:
As far as we're concerned, this is the ideal breakfast brew. Round it out with milk and sugar (or lemon and honey if you're looking for some variety) and serve it up with your choice of breakfast food: biscuits and gravy, pancakes and maple syrup, French toast, egg casserole, corned beef hash, bacon and eggs (with toast, of course), or whatever else strikes your fancy.
Fun Facts:
"Ceylon" is the former name of the island nation of Sri Lanka. This teardrop-shaped land lies off the southern coast of India. Until recently, Sri Lanka was torn apart by a decades-long civil war. Thankfully, these days, its people, economy, tourism and tea production are recovering well. Its economy is one of the fastest growing in the world, it is considered to be one of the world's best tourist destinations and its tea is craved by many a connoisseur.