The Vienna Apple Cinnamon Experience: warming, sweet, satisfying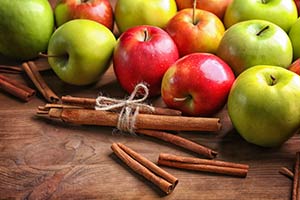 Cinnamon and apple is a classic combination. For example, apple pie gets much of its flavor from cinnamon. Is it the gently warming spice in the cinnamon oil that makes this combination so appealing? Or the fragrant, crisp juiciness of apples? Perhaps we'll never know exactly what makes these two flavors get along so well, but we do know that this tea has just the right blend of the two.
Tasting Notes: apple pie, vanilla, spiced cider
As you sip this tea, you may immediately think of cider or apple pie. Juicy apple and naturally sweet cinnamon and vanilla meld effortlessly to create a sublimely warming brew. Green rooibos and honeybush provides a smooth fresh finish. And with zero caffeine, you can enjoy this healthy treat anytime of day!
Ingredients: Green rooibos & honeybush, apple pieces, raisins, flavor, roasted chicory, cinnamon, almond flakes, hazelnuts, vanilla bean pieces.
1.5 tsp Per Cup
208°
5 Minutes
Savoring Your Experience:
Like a warm slice of apple pie, Vienna Apple cinnamon is perfect with creamy desserts. Try it alongside a vanilla ice cream cake with warm peach compote, banana cream pie or pumpkin cheesecake.
Fun Facts:
Apples are the most widely cultivated fruit in the U.S. And for a good reason - it's both delicious and healthy! Apples are rich in dietary fiber and antioxidants. Studies indicate that eating apples may help decrease your risk of diabetes, lower cholesterol, and improve heart health. As the saying goes, an apple a day.