The Watermelon Lime Green Tea Experience: bright, sophisticated, invigorating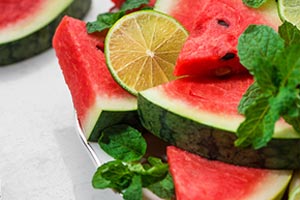 This unique blend of green tea and delicious fruit delights and refreshes the senses and mind.
Tasting Notes: creamy, citrusy
Large, colorful pieces of fruit greet you when you open a bag of Watermelon Lime Green Tea. Tightly rolled organic green leaves, watermelon seeds and pomegranate create an irresistible ruby infusion. The distinct aroma of rosehips is softened by the round flavor of apples. The sweet-tart zing of lime perfectly complements the green tea base to add a bit of citrus without overshadowing the delicate sweetness and subtle characteristics of the tea itself. This organic tea's fruity character and light body are both enhanced with by a creaminess that pervades the cup. Be sure to enjoy the lasting notes of citrus, both sweet and tart, in the lingering aftertaste.
Ingredients: Apples, rose hips, organic green tea, hibiscus, pomegranate, natural flavor, carrots, lemon myrtle, lime pieces, lemon peel, basil, lime juice, stevia, watermelon seeds
1.5 Per Cup
190°
3-4 Minutes
Savoring Your Experience:
This tea is fabulous served hot. It's also an ideal infusion for a special summer fruit drink. To prepare it for a summer occasion, cut up and freeze fresh watermelon chunks. Then, in a blender, add the frozen watermelon to brewed and cooled Watermelon Lime Green Tea. Add a dollop of honey and a squeeze of fresh lime, then blend and serve. Enjoy with a cool spinach salad with tangy balsamic vinegar and a crunchy baguette.
Fun Facts:
This green tea contains a moderate amount of caffeine (far less caffeine than coffee). It also contains the amino acid L-theanine, which is said to work with caffeine to improve mood, memory, productivity and brain function.