The Islander Oolong Tea Experience: soothing and uplifting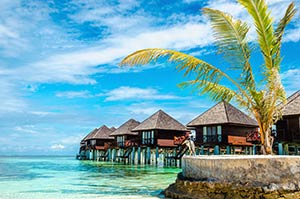 This flavorful, bright tea just might send you on a mini vacation.
Tasting Notes: smooth, slightly sweet, fruity
This is a bright, yet delicate and delicious, drink. Its dark golden cup, sweet aroma and silky mouthfeel evoke relaxation and pure enjoyment. The oolong in the blend is mildly sweet and smooth, and when paired with passion fruit and marigold petals it produces delectable, lightly fruity flavors and rich, honeyed aromas.
Ingredients: Oolong tea, marigold petals with passion fruit flavor.
1.5 tsp Per Cup
180°
4 Minutes
Savoring Your Experience:
The tightly rolled, dark green leaves of this tea are blended with yellow marigold strands create a beautiful visual start to savoring this tea.
Watch the leaves unfurl as they steep. Continue with multiple steepings to enjoy the evolution of flavors and aromas as these leaves unfurl.
This clean, gentle, not-too-fruity beverage pairs well with grilled veggies and fish.
Fun Facts:
Much lore surrounds oolong tea. It is said that this storied tea has been enjoyed for over seven centuries. As oolong is equally complex in history and taste, we say that for every story about oolong, there is another taste to oolong. Oolongs are typically full bodied, and they range from green, bright and floral to dark, roasted and fruity, with many notes in between. Today, the island of Taiwan brings us many delightful oolongs, including this one.