The Tropical Island Honeybush Experience: the taste of the tropics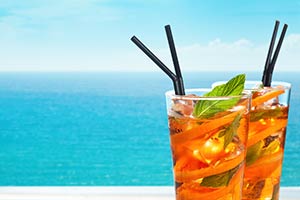 Flavors of bright mango and sweet, mellow honeybush create a delightful experience of tropical escape.
Tasting Notes: fresh, juicy, earthy
At first sniff, this golden-orange infusion puts forward aromas of sweet aroma of honey and mango nectar. It tastes pleasantly sweet and straightforward, as the mango pairs well with the honeybush. The body of the honeybush is similar to a light black tea so the characteristics a similar to sipping a black tea (but without any of the caffeine).
There is a slight earthiness to honeybush that offers the perfect balancing note for mango. You are left with a clean, smooth aftertaste, and a relaxed feeling of freedom.
Ingredients: Organic honeybush, marigold, blue mallow flower, cornflower, safflowers, natural flavor
1.5 tsp Per Cup
208°
5 Minutes
Savoring Your Experience:
This juicy and refreshing tisane is naturally caffeine free, so it is a great drink for adults and children alike. It's wonderful hot and absolutely refreshing over ice. Add a touch of local honey if you'd like to bump up the sweetness. Pair with a sun-dried tomato, grilled chicken and spinach wrap for a delicious meal. It makes a great after-dinner drink as well.
Fun Facts:
Although it's less known than its cousin rooibos, honeybush is an herb that is gaining a lot of admirers in America these days. Like rooibos, it is naturally caffeine free and high in antioxidants and minerals. It's mellow and earthty like rooibos, too, but it has a sweet, honey-like richness that's all its own. We love it as a grounding, softly sweet base for exotic blends like this one.