The Strawberry Lychee Green Tea Experience: sweet blossoms, revitalizing, smooth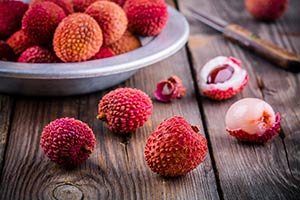 This mellow, sun-warmed Japanese sencha green tea blend unfolds a carefully balanced recipe of flavors with each sip.
Tasting Notes: berries, floral, clean
Dry, this blend is colorful, and filled with flower petals and strawberry bits. A sweet berry aroma is balanced by the green leaf as they meld perfectly into a refreshing aroma and a clean, pleasant flavor. Lychee fruit, jasmine and rose petals, and strawberry pieces complement the sweet sencha green tea. The character of the sencha shines through from scent to aftertaste. It is first is accented by flavorful fruit and flowery petals, then it leaves you with a sweet, vegetal finish.
Ingredients: Green tea, natural flavor, strawberry pieces, lychee pieces, jasmine blossoms, rose petals.
1.5 tsp Per Cup
175°
2-3 Minutes
Savoring Your Experience:
If savoring Strawberry Lychee hot, pair it with a wild smoked salmon, baby green peas and brown rice. Alternately, a fruit salad filled with blueberries, fennel and orange slices along with iced Strawberry Lychee is, well, de-Licious! If desired, add a few drops of honey to amp up the sweetness.
Fun Facts:
The tropical lychee fruit is oval and red, and it looks a bit like a strawberry. It has an inedible, rough skin. Once peeled, the fleshy lychee looks like a peeled grape, and has a similarly pearly, grape-like texture. Its exotic flavor and aroma has reached the West in perfumes, adventuresome desserts and our Strawberry Lychee Licious tea.