The Smoked Mango Oolong Tea Experience: Fire, smoke and… mango Oolong?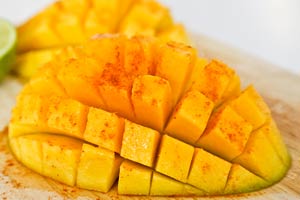 Spark a passion for tropical Oolong Tea with this spicy, smoky, sophisticated blend.
Tasting Notes: stone fruit, mango, spice
Floral, stone-fruity, highly oxidized Oolong serves as a layered base for this complex tea blend. Safflower petals and marigold petals add visual appeal, while chili flakes and dry mango bring flavor in spades. Pervasive heat and an almost syrupy mouthfeel make this tea an addictive, instant favorite.
Ingredients: Oolong, mango pieces, marigold petals, safflower petals, chilli flakes, natural flavor.
1.5 tsp Per Cup
190°
3-5 Minutes
Savoring Your Experience:
In summer, pair Smoked Mango Oolong with grilled game or fish. In winter, use it to make an 'Even Hotter Toddy' (1 shot whisky, 1 dollop honey, 1 cup tea, 1 wedge lemon). In any season, pair it with brandied pineapple upside-down cake for a grown-up take on tropical flavors.
Fun Facts:
The taste of smoke is all the rage these days. From smoky whisky to smoked Lapsang Souchong Black Tea to smoked meats, fish and even tofu, smoke is making an appearance in a wide range of foods and drinks. This is one of our favorites from the trend, and we hope you enjoy it as much as we do!