The Salted Coconut Truffle Black Tea Experience: rich and chocolaty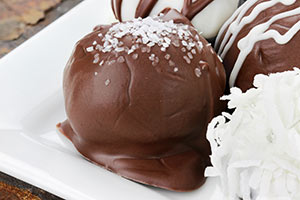 Well, they don't call them 'dessert teas' for nothing! Teas like this one offer up all the flavor and reward of a rich dessert without any of the calories or guilt.
Tasting Notes: dark chocolate, coconut, sea salt
From the start, dark chocolate aromas dominate in this blend. Beneath the chocolate, you'll find hints of coconut, black tea and sea salt. The nut-brown brew is rich and savory-sweet with a sheen of coconut oil on the surface. It's a blend that any chocolate lover will adore!
Ingredients: Black tea, cocoa beans, coconut, toasted coconut, organic honeybush, chocolate flakes, apple, flavor, sea salt, chocolate powder, vanilla.
1.5 tsp Per Cup
203°
4-5 Minutes
Savoring Your Experience:
Perfect pairings abound. Chocolate chess pie, a dark chocolate flight, flourless chocolate cake… it's hard to go wrong here. And if you enjoy tea lattes or Bullet Coffee, then try this as a 'Bullet Tea' (recipe below).
Salted Coconut Truffle Bullet Tea:
1 cup boiling water
1 tablespoon Salted Coconut Truffle Tea leaves
1 tablespoon virgin coconut oil or grass fed butter
Brew tea leaves five minutes. Strain. Add coconut oil or butter.
Mix on high with a blender. Enjoy hot!