The Roasted Almonds Black Tea Experience: A winter market in beverage form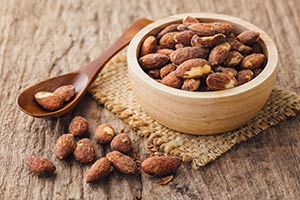 You know the aroma of sugared nuts that wafts through the air at local farmers markets and entices big-city shoppers anywhere within a one-block radius? Yeah this tea is just like that. Except you can enjoy it any time you want, right at home.
Tasting Notes: almond, cinnamon, apple
Black Tea leaves are warmed up with roasted almond bits and cinnamon. Apple and beetroot add a subtle touch of sweetness that brings out all the nuances. Each sip of the reddish caramel-colored infusion is a taste experience which your nose and palate knows and loves. This might just be our favorite wintertime blend!
Ingredients: Black tea, roasted almonds, apple pieces, sliced almonds, cinnamon, beetroot, flavor.
1.5 tsp Per Cup
203°
4-5 Minutes
Savoring Your Experience:
Fuel your holiday shopping expeditions with a carafe of Roasted Almonds Black Tea: it'll provide the flavor, warmth and caffeine you need. Or pair it with any of the dark, rich desserts of wintertime. Anything sweet with caramel, chocolate, spice, or maple is probably a match.
Fun Facts:
Almonds were one of the first foods we humans ever cultivated. They were cultivated in China and distributed through the ancient Silk Road. They're mentioned in the Old Testament Bible. Much like some people shower newlyweds with rice today, the Romans once showered them with sugared almonds as a fertility charm. Today, some Americans share sugared almonds at weddings to represent blessings of happiness, fertility, health & wealth. And we love the aroma and flavor of roasted almonds in winter and around special occasions - it's a tradition with a long history behind it!