The Pistachio Lime Yerba Mate Experience: unique, lively, satiating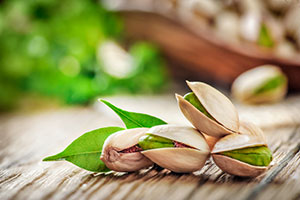 This distinctively delicious Argentinian yerba mate is as lively as its homeland. Sweet and savory notes abound, while flavors of nuts and citrus delight the palate.
Tasting Notes: nutty, creamy, tangy
This exceptional mate blend boasts huge lime slices, pistachios, almond slivers and dried coconut pieces added to earthy mate and rooibos. The result is a golden infusion that boasts aromas and flavors full of complexity. Roasted and creamy notes are balanced with juicy, fragrant lime and a rich nuttiness. Neither the tartness nor the earthiness overwhelm, and hint of lime linger in the aftertaste.
Ingredients: Green yerba mate, organic green rooibos, organic rooibos, pistachios, coconut chips, lime leaves, lime zest, almonds, lime pieces, lime juice, natural flavor.
1 tbs Per Cup
180°
3-5 Minutes
Savoring Your Experience:
This mate is delicious alongside a lunch of hearty avocado and bacon sandwich on multi-grain bread. For dinner, consider serving your mate with honey glazed pistachio encrusted salmon.
Fun Facts:
The pistachio tree originated in Asia and now grows in Mediterranean Europe and the dry climates of the American west. The pistachio nut is shelled and eaten whole, typically roasted and salted. They are used in a variety of desserts including ice cream, puddings and baklava. They are also popular as an individual snack and added to trails mixes. Recent research shows that (in addition to being tasty) pistachios may have numerous health benefits. Rad!