The Orange Spice Tulsi Tea Experience: surprising & delightful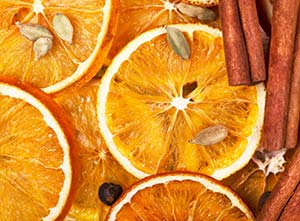 New and Improved for 2020! Think outside the box of teabags! This is anything but your usual orange-spice blend. Prepare to be surprised and delighted...
Tasting Notes: warming, herbaceous, bright
On the one hand, our Orange Spice is more soothing than your typical orange-spice tea. (It doesn't feel the need to overdo it with loads of cinnamon and fake orange flavor.) On the other hand, it's anything but boring.
Herbaceous tulsi grounds and balances bright notes of citrus and warming spices, while red peppercorns lend an unexpected oomph to the blend and keep things interesting.
Ingredients: Tulsi herb, apple pieces, orange peel, green rooibos, ginger bits, cinnamon, red peppercorns, cardamom, flavor.
1.5 tsp Per Cup
212°
5 Minutes
Savoring Your Experience:
This tea is ideal for pairing with Thanksgiving and Christmas foods. It's also great alongside dark chocolate or warming stews.
Fun Facts:
Tulsi (or "holy basil") is one of several ingredients which differentiates this distinctive take on orange citrus tea. In India, tulsi is revered as a holy herb, and is seen as a panacea of sorts. We love how it rounds out and grounds down complex blends like this one.