The Organic Imperial Keemun Mao Feng Black Tea Experience: the pinnacle of tea sophistication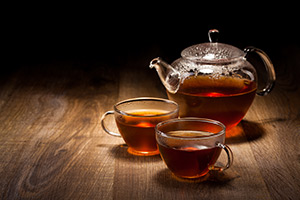 Keemun Mao Feng is one of China's most prized teas, and this organic version is an extraordinary example of it.
Tasting Notes: bold, smoky, evolving
Tiny, wiry, new-black leaves give off a sultry, smoky aroma. The brew is burnt umber with a golden ring in the cup—a sign of high quality. From first sniff, it captivates—its aroma is refined yet bold, and smoky, winey, dark and full. The flavor is equally full, as well as bold and nuanced. It evolves on the palate, giving hints of a good Port wine, exotic longan fruit, stone fruits and cedar smoke. And the sum effect is pure tea sophistication.
Ingredients: Pure Organic Chinese Black Tea - Imperial Grade.
1.5 tsp Per Cup
195°
3-4 Minutes
Savoring Your Experience:
Brewed British or Chinese style, this tea is a wonder. It's best paired with equally bold and sumptuous foods. Enjoy it with roasted, spiced nuts, tea-smoked duck, smoked lox tea sandwiches, red-wine-marinated steak, chocolate mousse, homemade browned butter ice cream, or anything with ganache.
Fun Facts:
Keemun Mao Feng is a black tea from the Qimen Province of China. It has been made there since 1875, when its production methods were adapted from ones used in Fujian Province (home to Lapsang Souchong black tea, all true white tea and many oolongs). It is known for its bold flavor. Ours is an excellent quality Keemun with less bitterness than you'd find in a lower quality tea.