The 1st Flush Darjeeling Oolong Tea Experience: Darjeeling meets oolong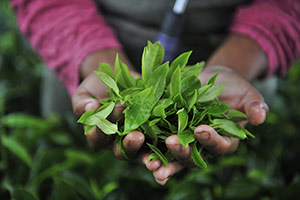 Darjeeling Black Teas have been famed for their fruity, rich flavors since the 1800s. In the 1900s, a Taiwanese tea producer developed an unprecedented method of oolong production which mimicked the famed flavor of Darjeeling. And starting around the early 2000s, a few innovative Darjeeling tea estates took the evolution of this particularly desirable tea flavor profile full circle: they began producing oolong teas using Taiwanese Oriental Beauty Oolong production methods.
Singbulli Estate is one of the few pioneering estates to succeed in making great oolongs based on Oriental Beauty Oolong, and this is the best Darjeeling 1st Flush Oolong we have yet to taste.
Tasting Notes: layered, floral, fruity
Dry, this oolong appears much like an Oriental Beauty Oolong, complete with wiry, downy buds and multi-colored leaves. Before they're even brewed, they emit autumnal aromas of dry apples, rich earth, ripe peaches and, above all, apricots.
The infusion is the cheery color of roasted butternut squash, and its scent epitomizes the interplay between Darjeeling Black Tea and Oriental Beauty Oolong that led to this tea: stone fruits, muscatel grapes, malt, with a characteristic Darjeeling bouquet throughout. The flavor is layered and dense, with a similar floral-fruity balance and with undertones of malt and fresh earth. The aftertaste is one of sweet, sweet malt with a slight astringency.
Ingredients: Oolong Tea from Darjeeling, India.
1 tbsp Per Cup
190°
2-4 Minutes
Savoring Your Experience:
This cross-cultural tea deserves a cross-cultural pairing. We recommend it as the center point in an international afternoon tea meal. Whip up some Chinese chicken salad finger sandwiches with cilantro, tahini, grated ginger and a hint of chili paste. Pick up some frozen dumplings to boil or pan-fry, and them serve them alongside soy sauce mixed with a splash of rice vinegar and minced ginger and garlic. Grate burdock root and carrots for a Japanese salad much like American coleslaw. And, if you can find them, serve a few Asian or Indian sweets, such as diminutive Taiwanese pineapple cakes, Japanese mochi, Chinese mooncakes, or India's take on funnel cake (jalebi).
Fun Facts:
Singbulli Tea Garden is located in the Himalaya Mountains near the border of Nepal. It's about 40 miles from Darjeeling town, a charming, sleepy little outpost set apart by its numerous tea shops, it's narrow-gauge-tracked steam locomotive and its shroud of mists. Unlike the rest of Northeastern India, tourists flock to Darjeeling town for its tea and the lingering flavor of the British rule found in its architecture, hotels and tea plantations.