The Chocolate Mint Rooibos Experience: decadent, smooth, creamy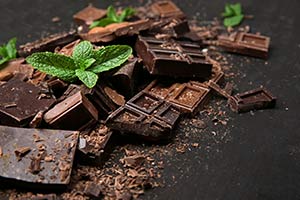 This tea is a true chocolate lover's delight. Notes of dark chocolate and fresh mint infuse the tea, while rooibos adds a nutty finish. If you're craving sweets, brew up a cup of this tea instead. Sweet and smooth, Chocolate Mint Rooibos is a treat that will satisfy the biggest sweet tooth.
Tasting Notes: hot cocoa, vanilla buttercream, mint chocolate chip ice cream
Full-bodied with a creamy finish, like a chocolate parfait topped with a dollop of whipped cream. A gentle hint of mint and toasted nuts becomes stronger as the tea cools. Velvety, sweet and satisfying.
Ingredients: Rooibos, cocoa beans, apple, peppermint, chocolate flakes, flavors, cocoa powder, vanilla, sea salt.
1.5 tsp Per Cup
208°
5 Minutes
Savoring Your Experience:
Chocolate Mint Rooibos pairs wonderfully with desserts. Serve it alongside chocolate cheesecake, grasshopper pie or even a midnight raid on that box of Oreo cookies. Or simply add a splash of milk and sugar to Chocolate Mint Rooibos and savor dessert in a cup!
Fun Facts:
With origins in South America, cocoa beans were first used as a beverage by the Mayans, who drank it as a ritual in betrothal and marriage ceremonies. Today chocolate continues to be a symbol of love. The Latin word for cocoa (Theobroma) means "food of the gods"; we agree that Chocolate Mint Rooibos tastes quite divine!