The Chamomile Vanilla Bean Herbal Tea Experience: soothing, calming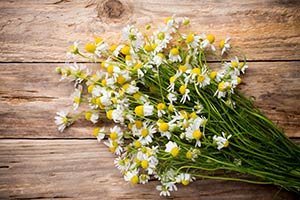 A peaceful end to a hectic day, this popular and relaxing herbal blend is a gentle way to settle in for the evening.
Tasting Notes: vanilla, caramel, floral
Happy, round, yellow chamomile blossoms greet you. The dark golden herbal brew offers a soft vanilla aroma. Light and smooth, with ample chocolate notes, this blend delivers a dessert-inspired sweetness. The tang of lemongrass is evened out by the mild floral flavor of chamomile. Hand-cut vanilla bean, organic honeybush and coconut add depth to this tranquil infusion.
Ingredients: Chamomile, Organic Honeybush, Lemongrass, Licorice, Hand-Cut Vanilla Bean, Stevia Leaf, Sea Salt, Chicory, Honey, Coconut, Natural Flavor
2 tsp Per Cup
212°
8 Minutes
Savoring Your Experience:
Enjoy this herbal blend any time of day. Because it is naturally caffeine free, and because chamomile is known for its relaxing properties, our Chamomile Vanilla Bean is an ideal way to end the day.
As an herbal infusion, you can steep it for as long as you like and it won't ever get bitter or too strong. If you are looking for a natural remedy, this is a great one -Chrysin is a specific flavonoid found in chamomile and has been shown to help anxiety.
Fun Facts:
Vanilla beans are full of aroma and flavor. Used in many drinks and a variety of sweet and savory dishes, they are particularly popular in flavoring desserts, beverages and alcohol. Really love vanilla? Let a vanilla bean sit in one cup of sugar, closed tightly for a month, and then use that vanilla sugar to sweeten this herbal infusion and other teas.