The Apple Ginger Green Tea Experience: warming, wintery, comforting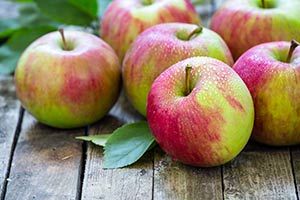 Wintertime never tasted so good! This warming, ginger-spiked blend evokes the wintery taste of apple cider, minus that cloying sweetness of sweetened fruit juice.
Tasting Notes: zesty, spicy, fruity
Zesty ginger and sweet apple pieces give it the appeal of a baked apple. From its pale golden color to its lingering spicy-sweet aftertaste, it's a delight to savor. Fruity, spicy, bold: it's exactly what we crave in winter!
Ingredients: Green tea, white tea, apples, ginger pieces, flavor, sweet blackberry leaves.
1.5 tsp Per Cup
175°
2-3 Minutes
Savoring Your Experience:
Pair with apple crumble, baked apples or any of the classic holiday meals (Thanksgiving turkey, Christmas glazed ham, Hanukkah brisket, latkes and applesauce). Savor Apple Ginger Green & White Tea by a roaring fire. Or do like we do: cozy up with it whenever the leaves start to turn and don't let up on it until you see crocuses in bloom!
Fun Facts:
One of the secrets behind many of our fruit tea blends is hidden in plain sight. It's the apples! This blend boasts large apple pieces, which make it far more full-bodied and satisfying than it would be without them.